We all know that Jimi loves watching sports and playing them. Some say that he even likes to watch cheerleaders and I guess that you could say that if you judge his clapping, cheering, laughing, throwing himself all over the place, and running onto the basketball court when the cheerleaders are there as "liking."

He, along with several other members of the Campos and Hoff families, enjoyed watching Jose play baskeball again this year. Jose played hard and stood out as a rebounder, a shooter, and a teamplayer who often made passes to teammates. Jose, by the way, owned Clovis (where I graduated) this year and that was as first man coming off the bench. We are all proud of the way Jose made his playing time count and we look forward to the coming years as Jose gives personal one-on-one basketball instruction to Jimi. Jimi will "lap" it up and really benefit from Jose's knowledge, skill, and enthusiasm/passion for the game.

These pictures are from the Artesia game here.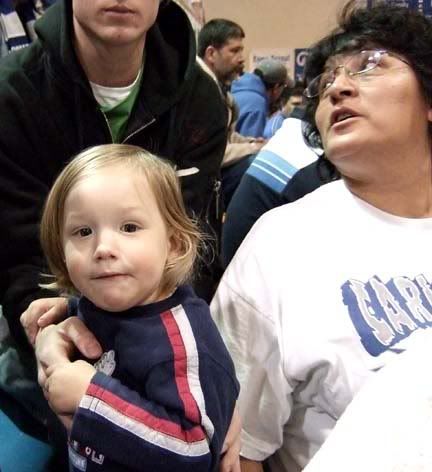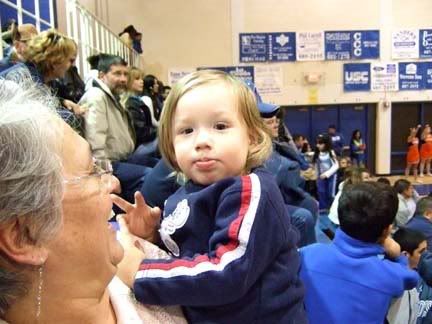 Jimi at the Artesia games with Grandma Carol and Grandma Chris. As you notice, both the Grandmas names start with "C" while the Grandpas names start with "A" and "B." Thanks to my photo editing skills, the picture of Jimi and Carol includes--at no extra cost to you--Darren's lips and a close by nose.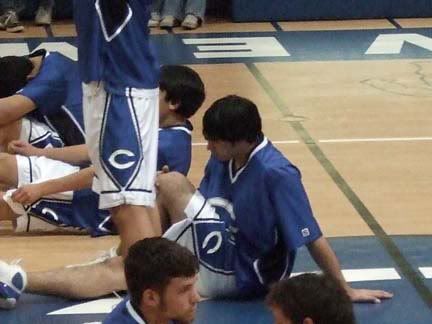 How does a Carlsbad Caveman start a basketball game against Artesis High School? By putting on their uniforms. But this photographer did not ask to go into the Caveman locker room before the game so the first picture that I could get was of Jose was him stretching for the game.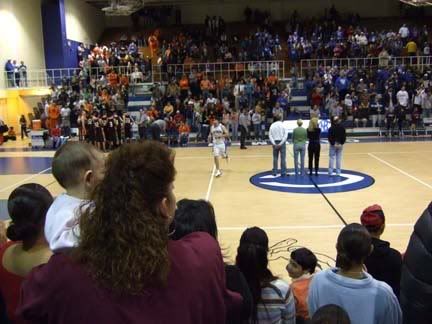 Next I got a picture of him dashing madly onto the court to throw away one of his extra uniform shirts to some lucky person in the crowd. Last year he threw one to me and I still wear it proudly at my house because I have gained so much weight that I can't weigh it in public.

I took lots of pictures of Jose at several games, but many didn't come out because I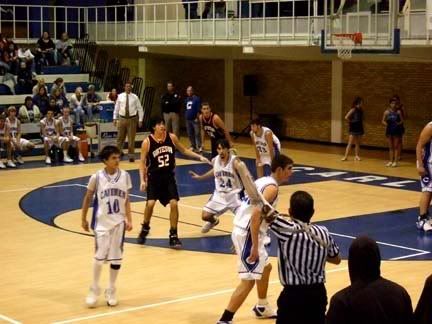 really didn't know how to use my new camera that I got for Christmas 2006 (and I wasn't so hot with my "older" digital camera either). But out of sheer experience, I think that I am beginning to get a scotoosh better. (I think that is a word, but don't try to look it up). This is one of my favorite pictures of Jose; for me it summarizes him
--alert, knees bent, playing defense, in the center of things, and playing the basic basketball that players need to play to help their teams win. On too many occasions, it seemed to me that other players took the "crazy." heck-bound for glory shots, without even considering passing to a teammate in a better position to shoot or dribbled themselves into a daze losing the ball or turned basic pass opportunities into fancy unsuccessful misguided "adventures."

For me, as I am sure for others of the Campos/Hoff clans, we have no doubt that Jose's contributions to the team in 2006-2007 should have merited him status as a starter and many, many more playing minutes per game. Obviously, the Cavemen would have benefited from that team strategy. That Uncle Jose was the first man off the bench shows that his coach almost had it right (Jose as a starter), but as we all know, "almost" doesn't count in many things, including basketball.

Some other scenes from the game--an inbounds play, Jose on defense during an Artesia player's free throw, Jose taking--and making--a free throw, and the team in a huddle.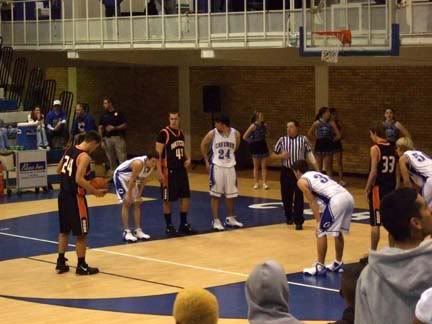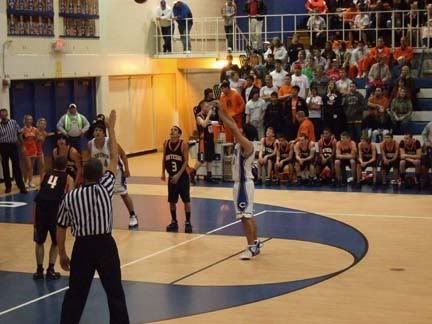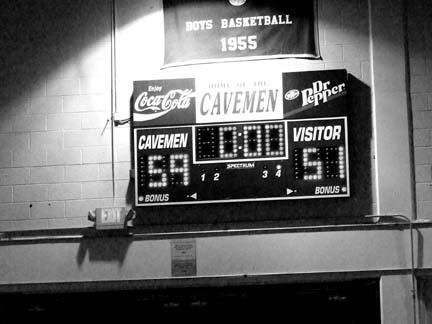 The final result--a win over Artesia!! Jimi says, "Thanks, Uncle Jose, for playing REAL Caveman basketball,"--and the rest of us do too. Great season, Jose!! Love, Jim, and Everyone