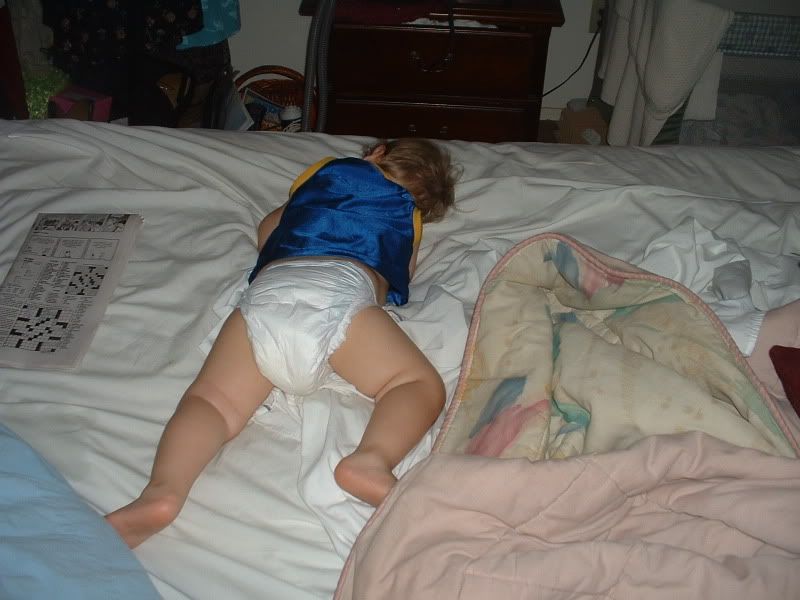 Every morning, Monday - Friday, I am a breakfast chef to grandson, love of my life, "good morning, morning glory"Jimi Hoff. Since he can't read my menus (they are in French) and the main words he says are "aqua" (Spanish for water), bath, cheese, whzthat, keys, and dog, I just generally "imagine" what I would want to eat if I was him. Yesterday, Sept 14, I imagined that he would want a waffle, apple juice, blueberries, and a banana. Well, he split the waffle with Damu, our part pit bull, part lazy-bones sentry dog, also threw some "nanas" (it sounds like he is saying) to Damu who always hangs around when Jimi is in his highchair, drank some apple juice, and asked for seconds on blueberries. Right after breakfast, I started a bath for him because of the blueberries smeared from his mouth along his arms. On Sept 13, the day before yesterday, I started the bath because he had spread strawberry yogurt on himself as it was baby lotion

Today, Sept 15, I imagined that he would like some Cinnamon Crisp cereal, some apple juice, and some more blueberries. I also introduced him to raisins.("Jimi, this is Mr. Raisins. Mr. Raisins, this is Jimi) I gave him four "servings" of six each and he only threw two on the floor. Damu doesn't do raisins. Today I made lime jello with pineapple chunks and walnut pieces for "Jello Monster," my wife, (I do eat a tad myself). I accidentally dropped some walnuts on the floor and called Damu. He does do walnuts. He is one of the most efficient four-legged vacuum cleaners I have ever had the privilege to do housework with (if Jello Monster isn't watching).

Jimi is a boy who loves baths (aqua); in fact, he loves the word aqua itself and brings it up whenever he can; our grandson is bi-lingual. If I forget to tell him that it is time for a bath, he reminds me. He can't get in the tub fast enough, barely letting me disrobe him, including dis-diapering him. Only certain animals are allowed into the tub with him: his purple fish, his yellow fish, his green frog, his yellow rubber duck, his green alligator, and his white pelican with the big orange throat sack or whatever an educated person would call it.We did baths on both days (we do baths everyday). I let him play for a while, then lather him up and scrub him down. He is the most cooperative baby I have ever seen when it comes to rinsing his hair after the shampoo.His beautiful hair (said the proud grandpa) is a direct result of his trust in having his hair rinsed.


Then I dry him off and take him into the living room where I turn on a tape of "Sesame Street." (I love watching "Sesame Street" with him and would watch it by myself only I have to act like a grown and mature man my wife says)Then we play put the diaper on the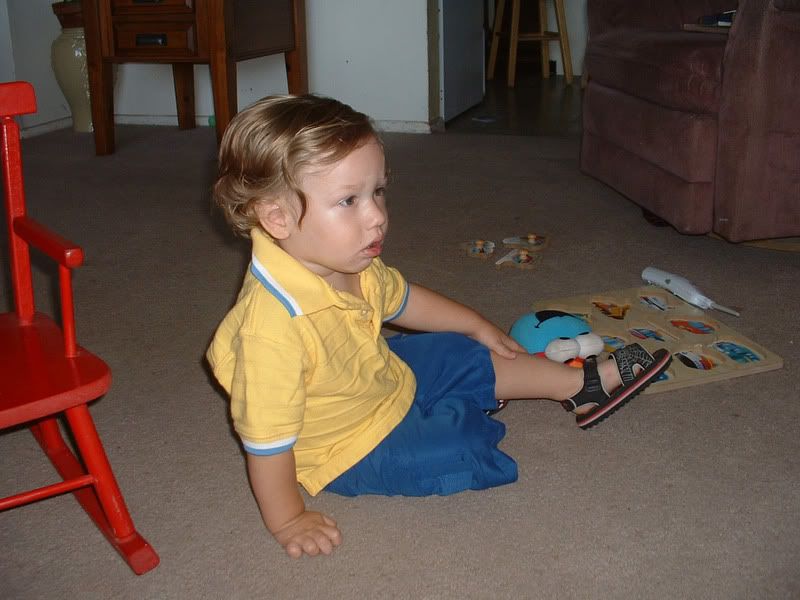 squirmy baby, followed by dressing him. Sometimes he cooperates and sometimes he doesn't, but I can usually get him dressed (diaper, t-shirt, shorts, and sandals) inside of 40 minutes or at least by lunch..Then while he is watching t.v. I try to comb his hair; however, he prefers to comb my hair which is about 1/25 as long as his. The while we are waiting for his other Grandma to pick him up, we turn off the t.v. and read together. Then when Grandma Campos arrives, he goes nuts when he sees her. Before leaving, he takes a few minutes to throw some toys, newspapers, and magazines around so that I won't miss his natural environment, even if he is leaving for a while..And even though he will be back in the early evening to spend the night and to amaze us, I know that I will miss the little rascal all day.


He is so wonderful said the proud grandfather. And to think that from a distance of 200-300 yards, this beautiful bundle of joy, I have noticed(and only me), resembles your obedient author. Oh, he favors his Dad and Mom too, but I think that we have the "storied" looks together (Don't deprive an old grandpa of his fantasy please).