Uncle Jeff and Grandma Chris watch as Jimi takes off running away from the tree. In next picture, he and Grandma burrow into tree while Jimi begins to lose his pants. In last picture, one of the presents he opened.
Uncle Jeff surveys a present. Uncle Erik looks at a mammoth guide to videos and DVDs. Darren the watchful Dad leans forward. Note all pictures of me were "declared" unpresentable by members of my family.
Picture of Jimi's Mom and Darren's Soulmate Victoria on a tree ornament. Jimi with a Power Rangers hat and a gift. Uncle Jeff with an ECKO shirt.
Jimi with new hoop set. He also got a book about Michael Jordon and a book by soccer great Mia Ham. In picture to the right, Dad Darren slams home a "thunderous" behind-his-back dunk
Grandma Chris showing Jimi something about a new Power Rangers toy; Grandpa Bob (whoops: one of my pix is public!) and Dad Darren (son to Bob and Chris and brother to Erik and Jeff) ;the ornament at the top of our tree.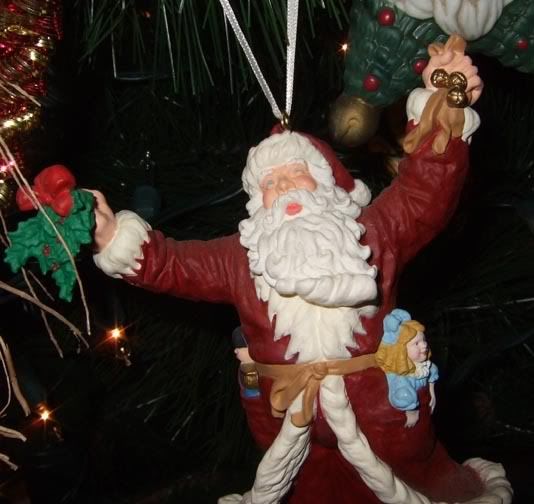 Hope everyone who celebrated Christmas had a blessed and enjoyable family celebration and that any other unpcoming holiday celebrations of yours will be enjoyable for all.
Bob